October 2020
Harbor Freight Tools for School's award recognizes outstanding instruction in the skilled trades in U.S. public high schools and teachers who inspire students to learn to prepare for post-graduation.

Hancock's Gary Mishica was awarded a $50,000.00 national teaching prize. Watch the TV6 News story here.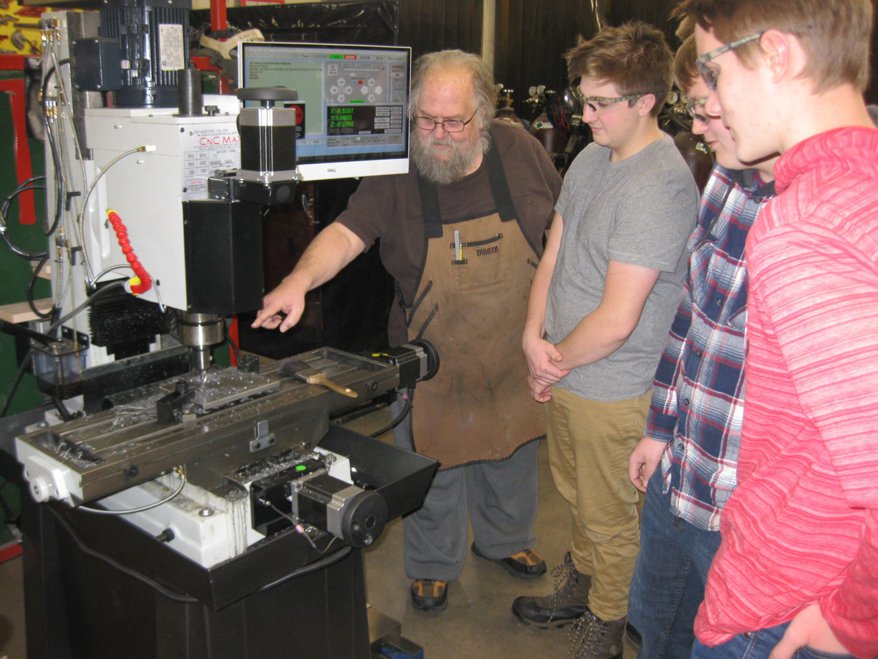 Instructor Doug Macintosh, our computer programmer/machinist, demonstrates to students how to operate the department's CNC (computer numerical control) vertical mill. This machining process uses computerized controls and rotating cutting tools to create custom-designed parts or products. The mill can be used on various materials such as metal, plastic, glass, or wood. In the past, students have used the mill to produce sports plaques, name plaques, awards, and many types of signs.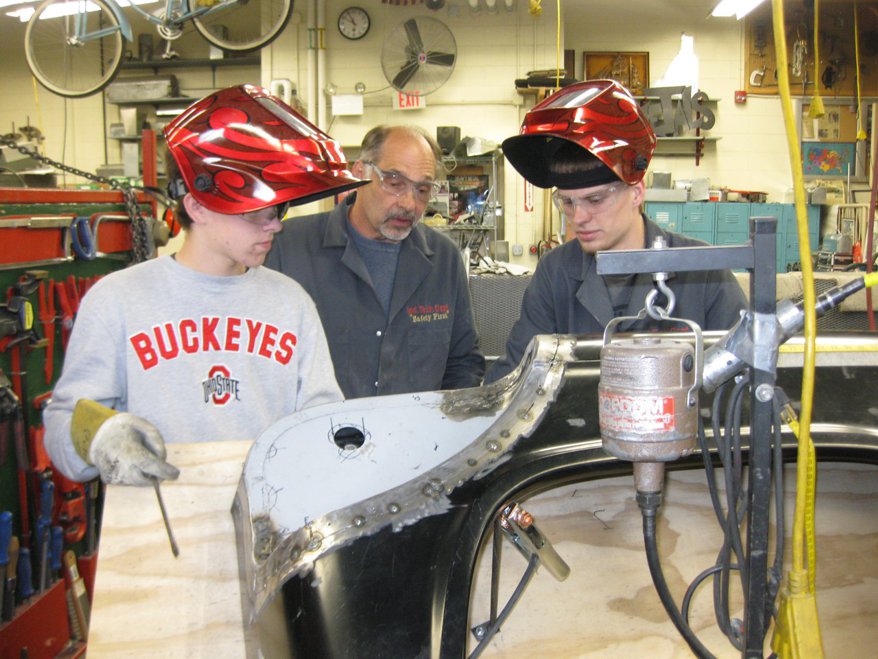 Jim Perander, our auto body and welding instructor, guides students as they perform rust repair on a rear fender for a 1962 Chevy pickup.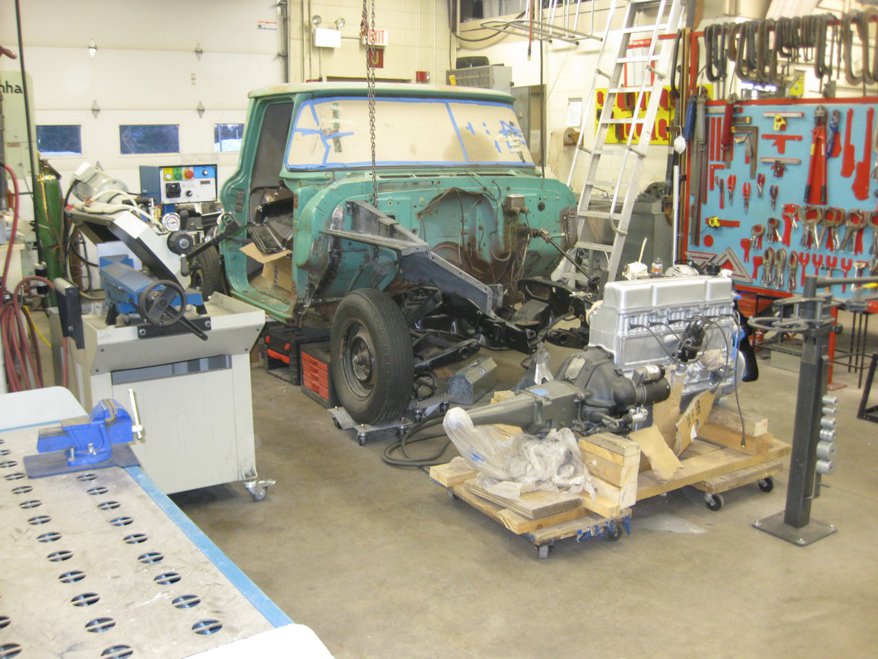 Pictured above is our vehicle restoration project which involves, body work, repainting, rebuilding of the truck's power train and braking system, and upgrading components such as adding power brakes and power steering.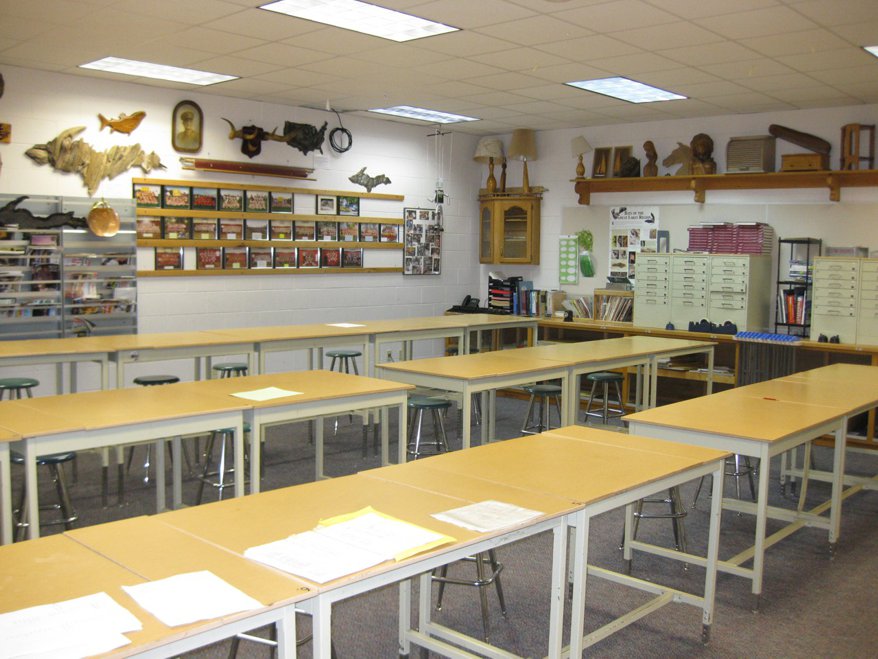 The drafting and lecture room is used for viewing videos, lectures, studying, group meetings, and drafting projects. It displays some sample projects students can build and provoke and inspire creating thinking.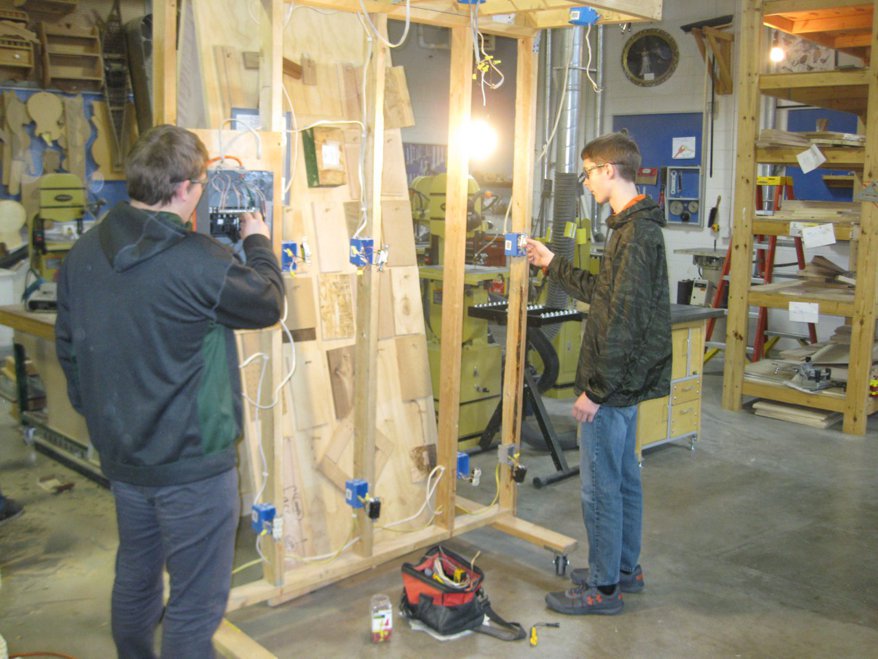 These wooden wall studs contain electrical boxes, switches, and lights that are all connect by wires to a service panel. Students use this set up to learn basic home wiring skills.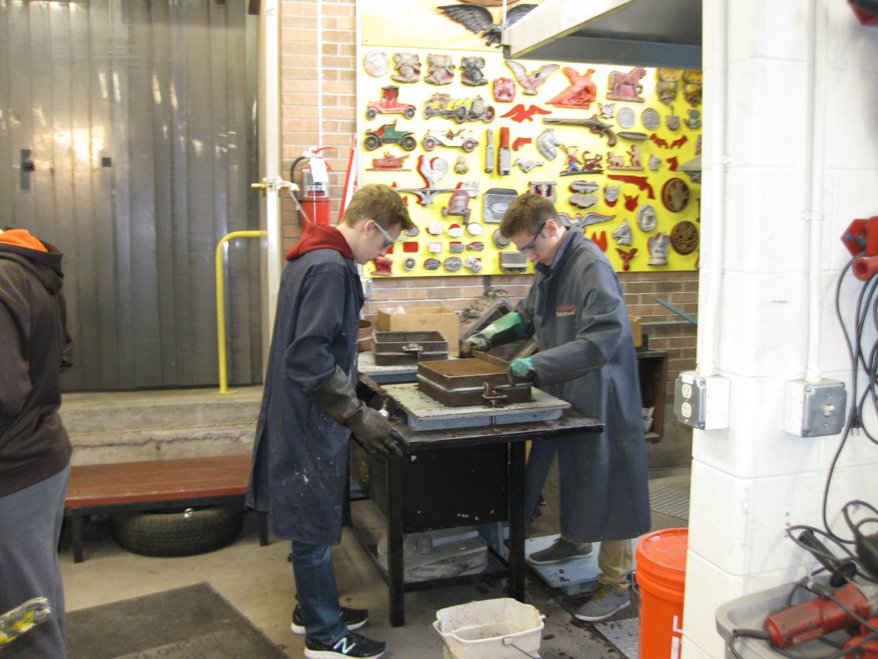 Students work on a foundry casting project. The dark metal box is called a flask. Inside, it contains a three-dimensional object embedded in sand. When the flask halves are separated, the object is removed and this creates a depression in the sand. The depression is filled with liquid metal. After the metal cools, it forms a casting of the original object.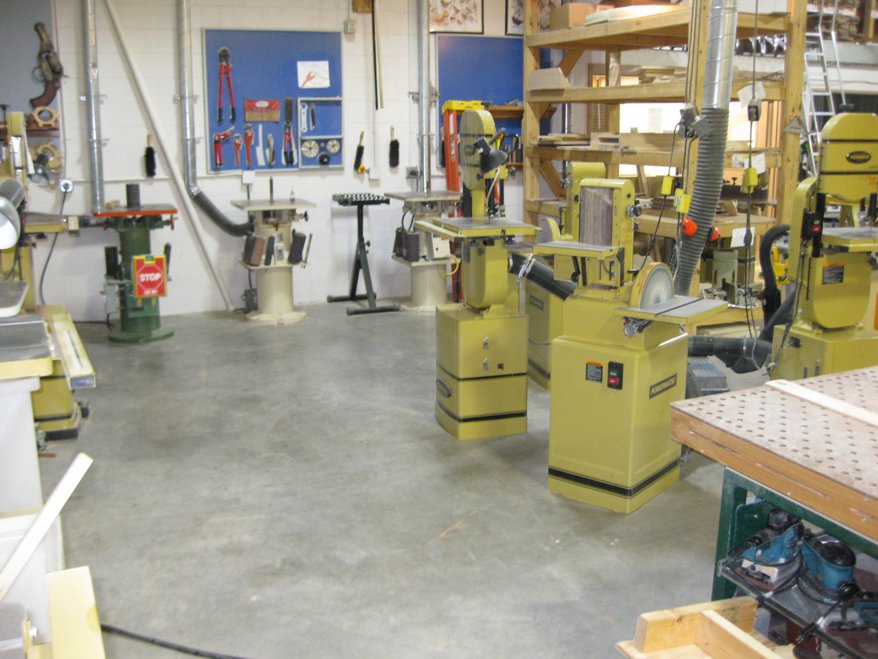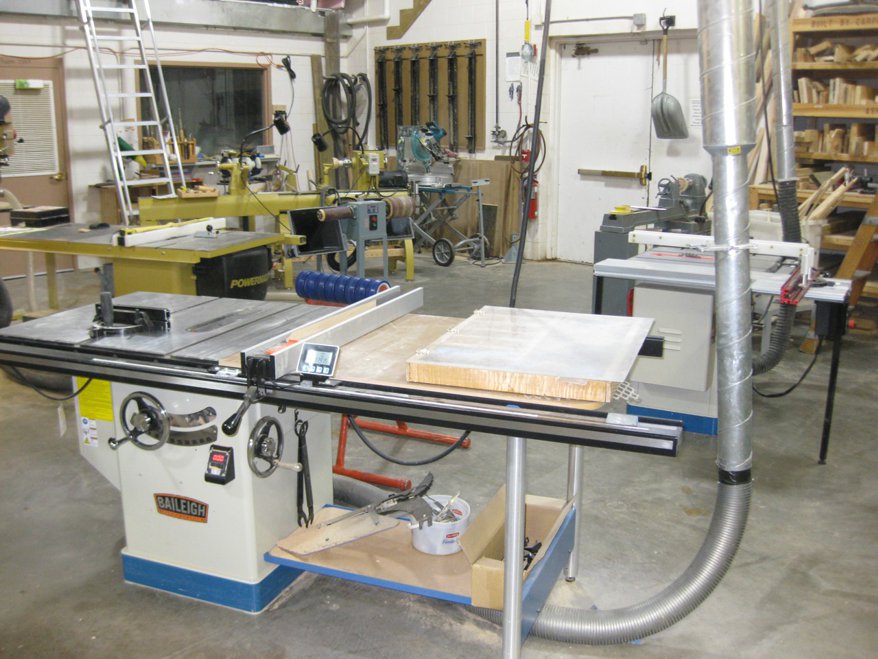 These photographs display some of the power tools in our woodshop area. On the left are several of our band saws, oscillating spindle sanders, and belt and disc sanders. On the right shows our three table saws, wood lathes, and compound miter saw. The woodshop is used by our seventh through twelfth grade students to create a wide range of wood projects from cutting boards to fine furniture such as cabinets and dining tables.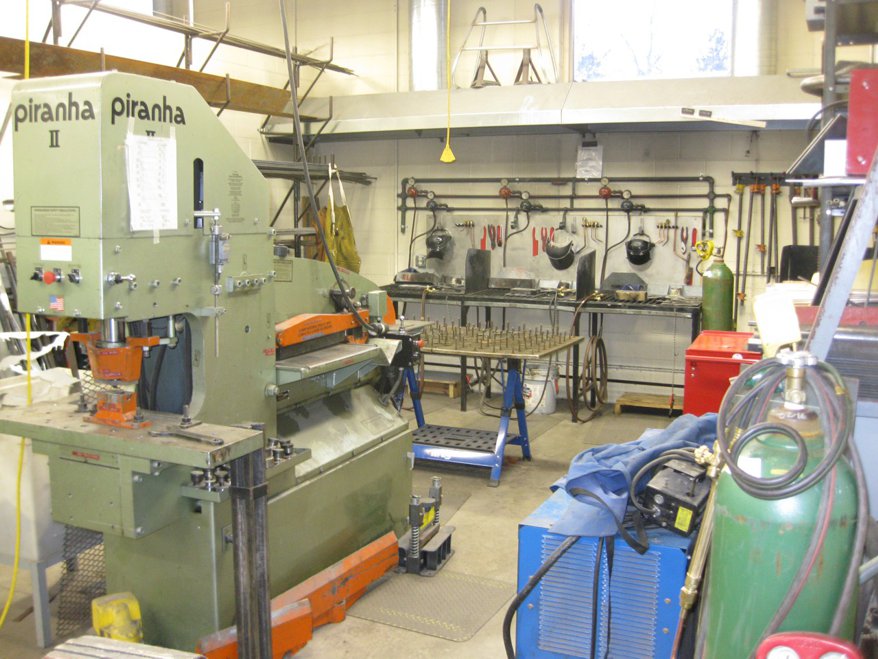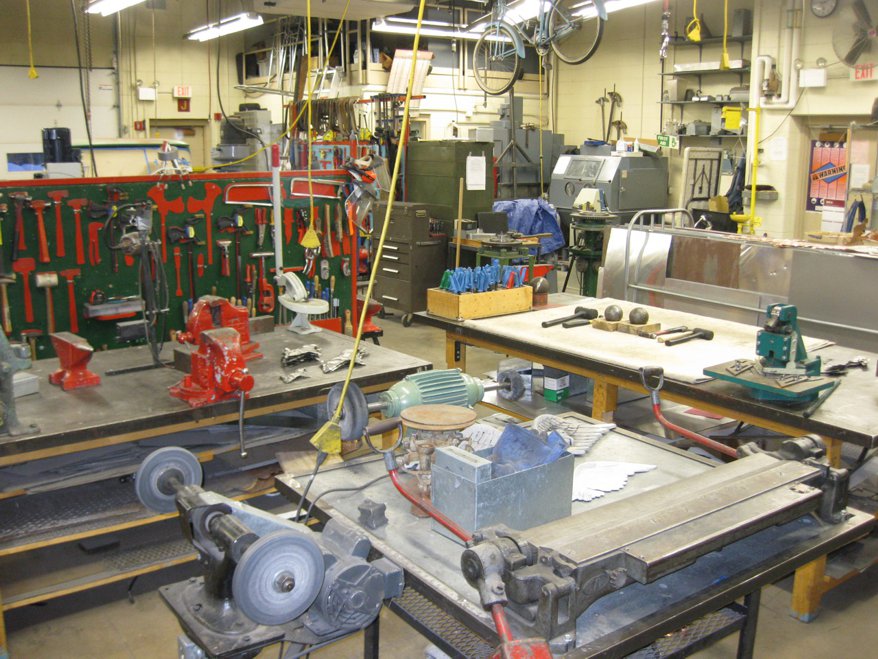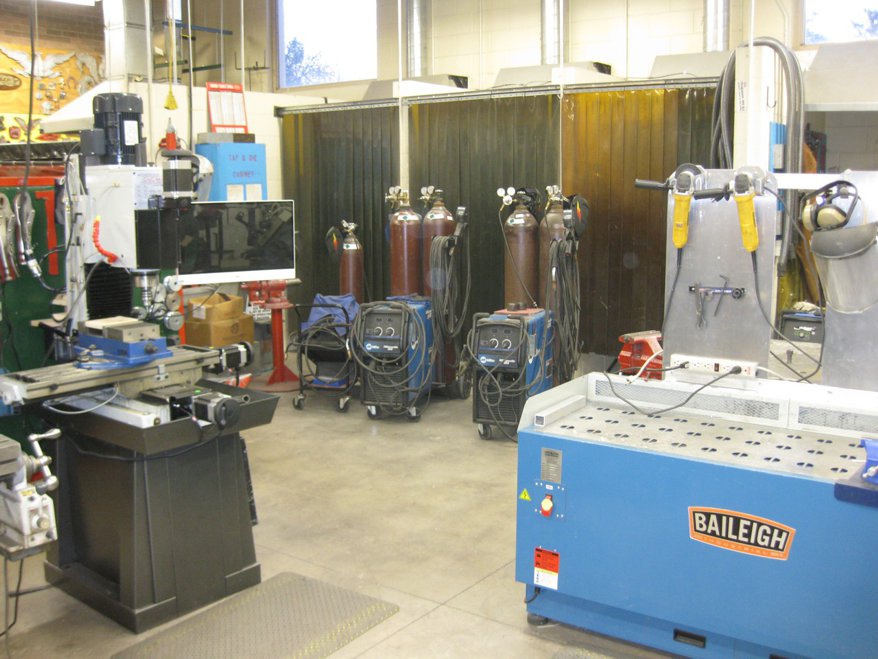 These photographs display our school's metal shop with its extensive metal fabrication capabilities. Students from middle school through high school fabricate projects from ferrous and nonferrous metals by welding, casting, bending and forming. Projects range from sheet metal boxes, sculptured art, and foundry casting to utility trailers.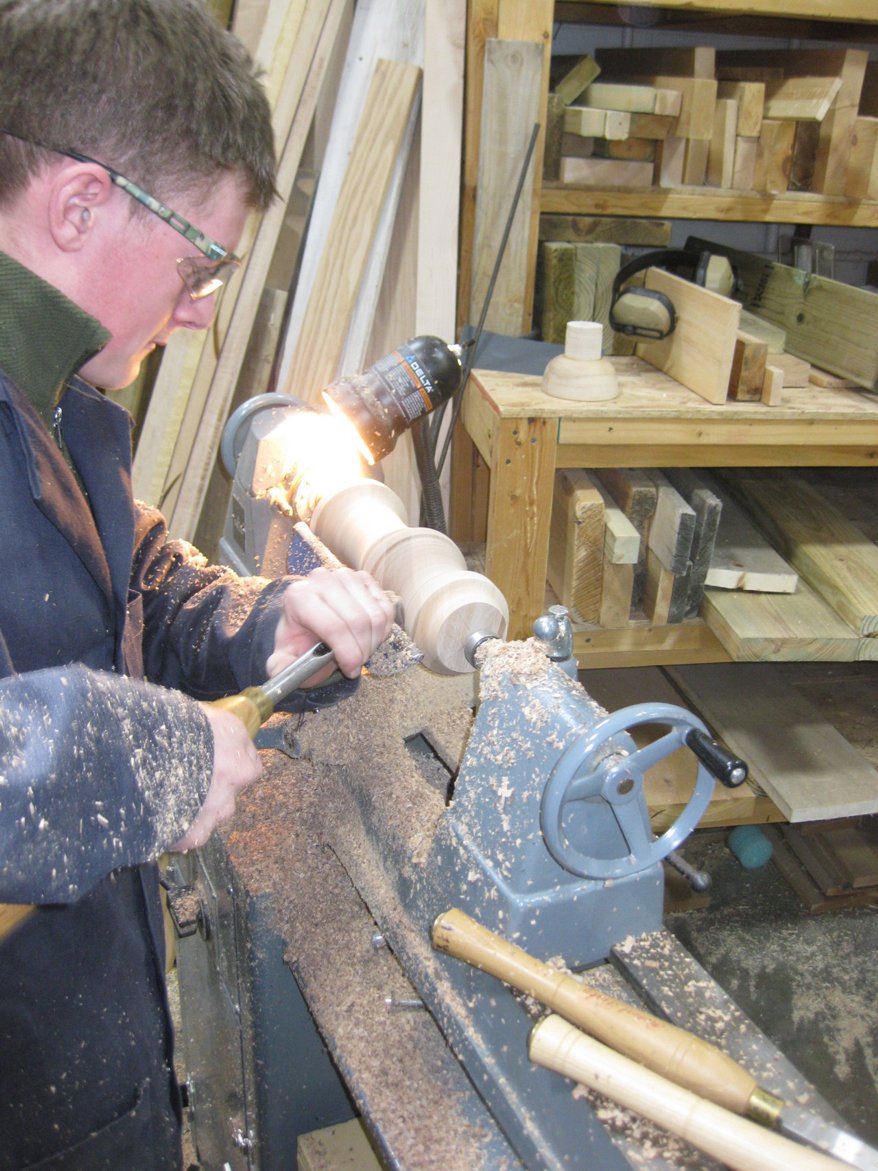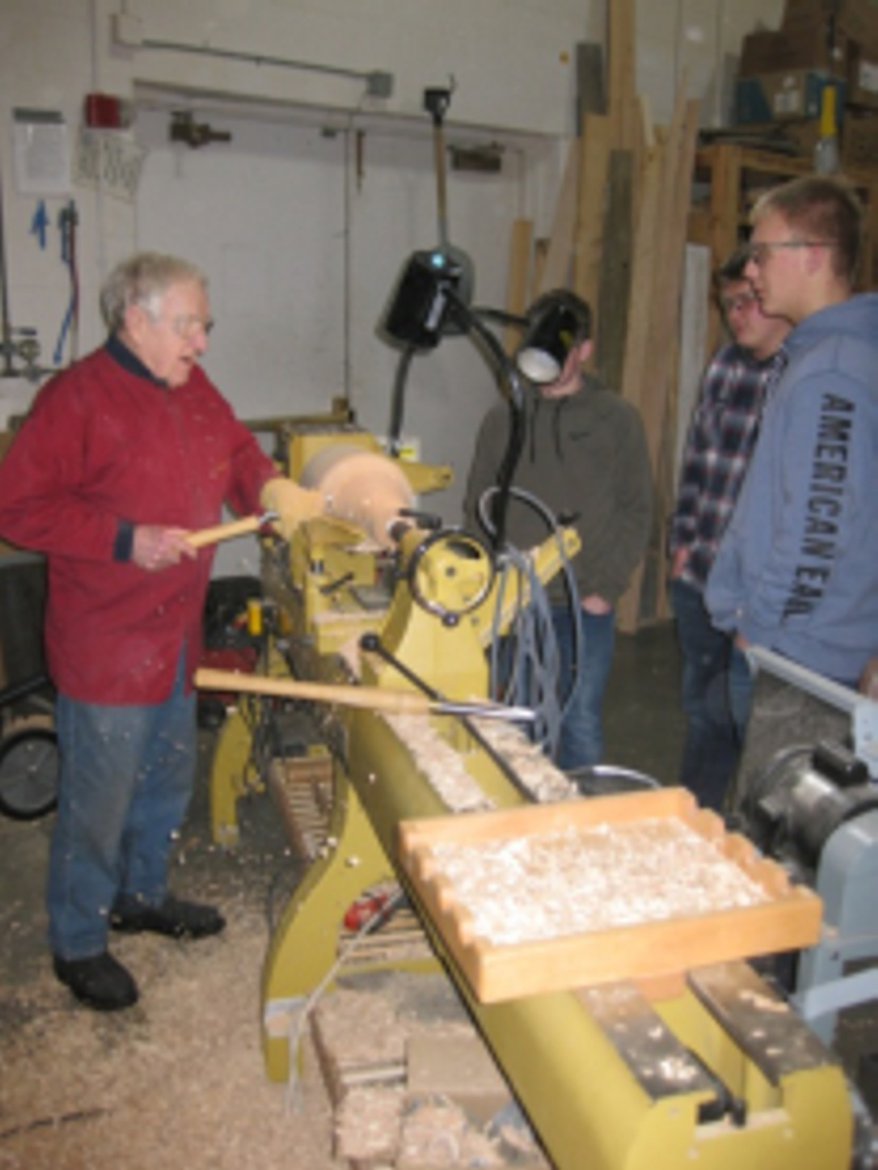 Instructor Bill Wiard, our department's wood turning and wood carver demonstrates his skills on the lathe. The first picture above shows a student putting in some time wood turning to create a center post for a table lamp.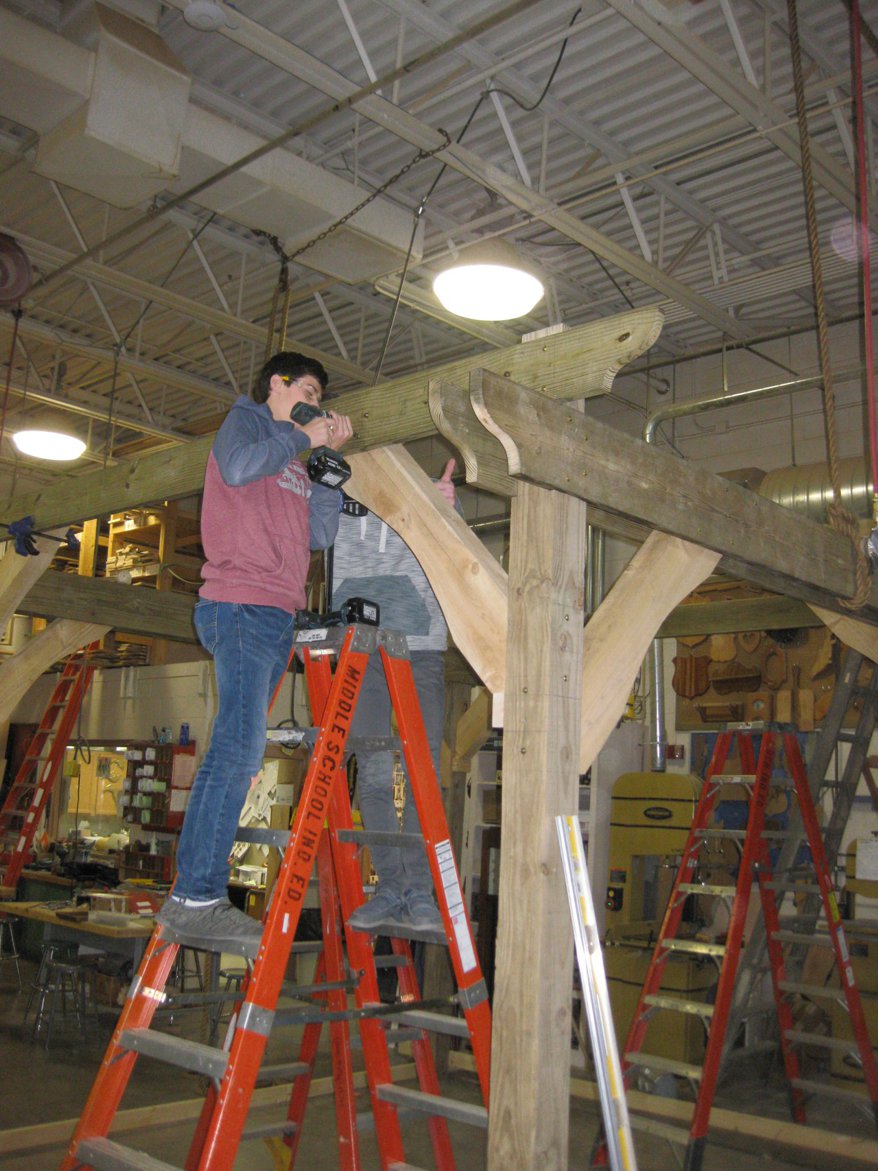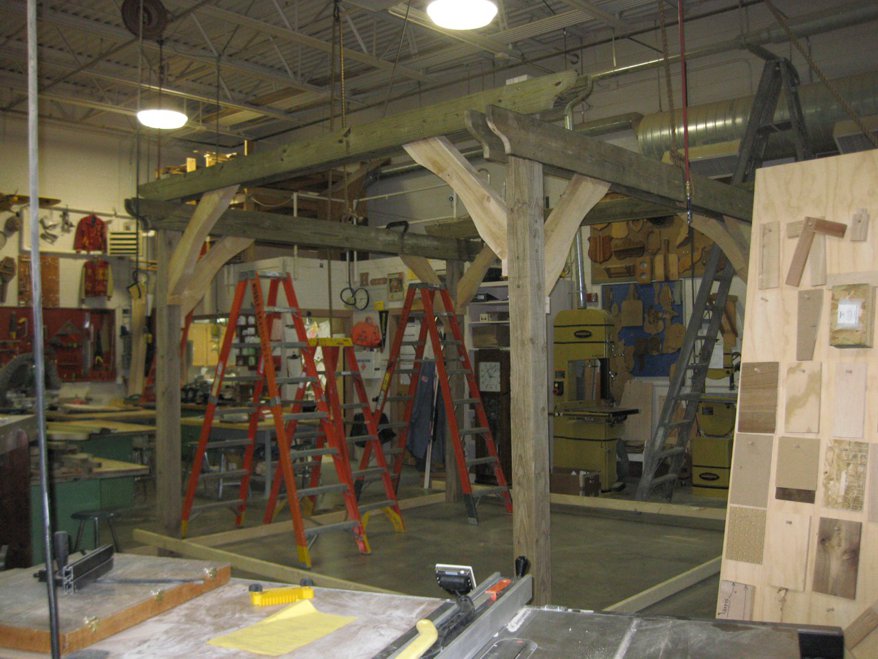 The pictures above display the pergola, which the Industrial Tech advanced class is constructing for the Houghton County Medical Care Facility. The pergola will be placed in the parking lot area for residents to gather, and it will have attached flower boxes for gardening. Additional larger flower boxes for around the perimeter of the pergola will be constructed by the students this year.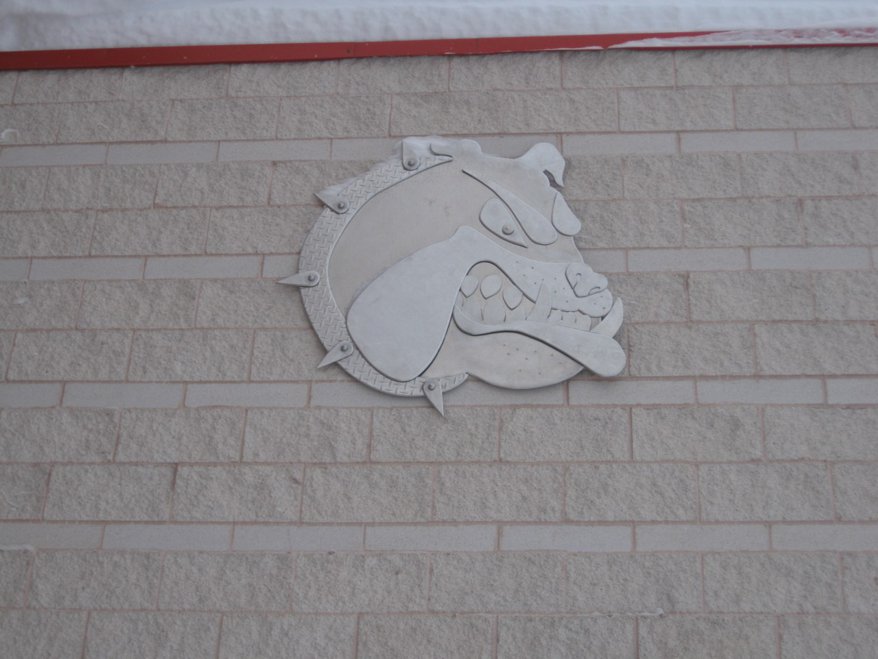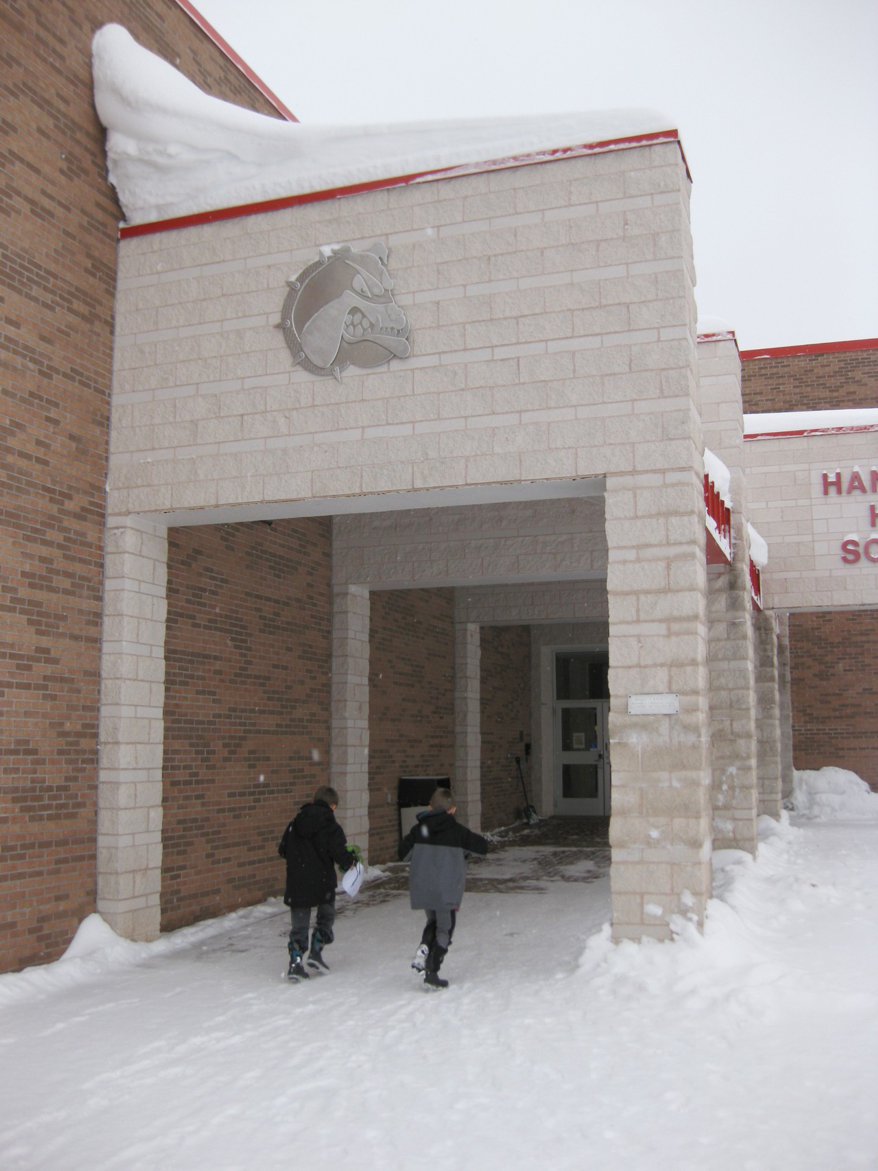 These photographs display the large bulldog mascot which the students designed and constructed. It measures 42 inches in width and was built from layers of aluminum.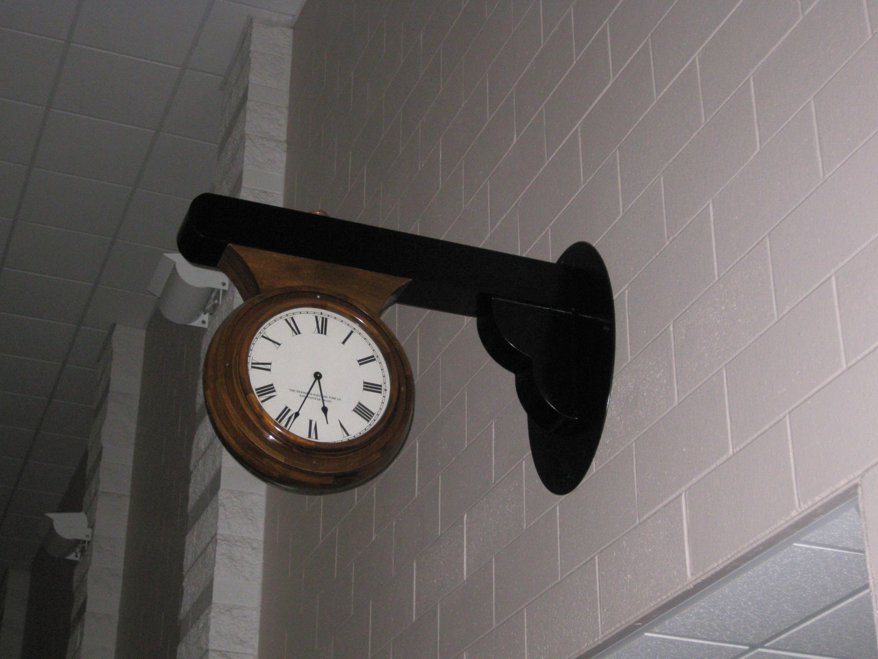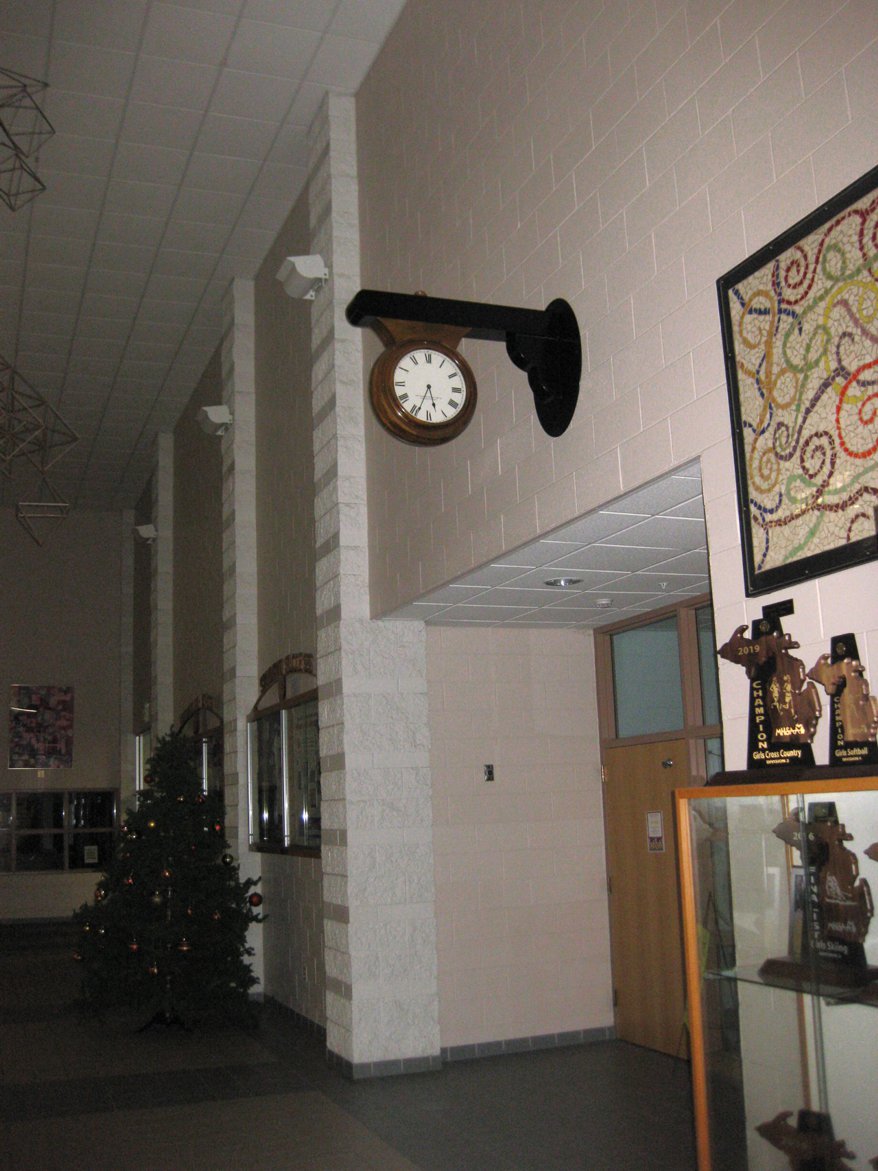 These photographs display the 1923 Quincy Street High School clock, which was restored by the Hancock Alumni Association. The Industrial Tech classes constructed the base and mounted the clock in our high school.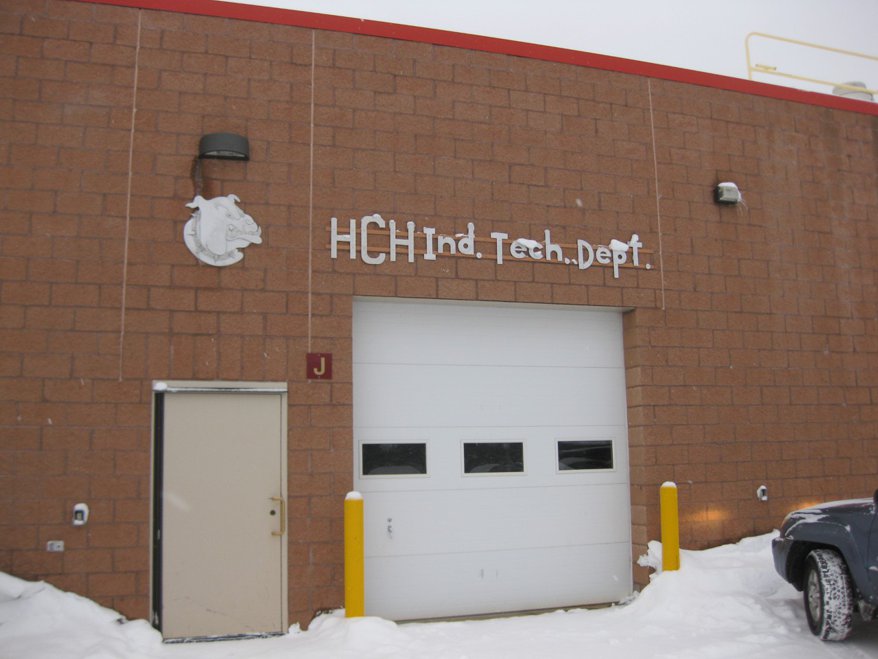 This photograph displays the sign students constructed for our department. The sign contains individual aluminum letters that are riveted to mounting strips.